20 Apr

Author paths. Monumental – Cenisio: an open-air museum

The author paths are designed for those who don't like commonplaces and want to be surprised by one of the most fascinating areas of the city. A journey described by a person who has photographed many spots of the world, but that for the our Author Paths blog section chose to tell us her most beloved Milan area. From the Monumental Cemetery to Battaglia Foundry to Fabbrica del Vapore, Carla De Bernardi, photographer and writer takes us with her on a walk through the historical memory of Milan. We follow her and let her tell us about impressions and memories to discover the secrets of Cenisio – Monumental Cemetery.

The wonder of the Monumental Cemetery.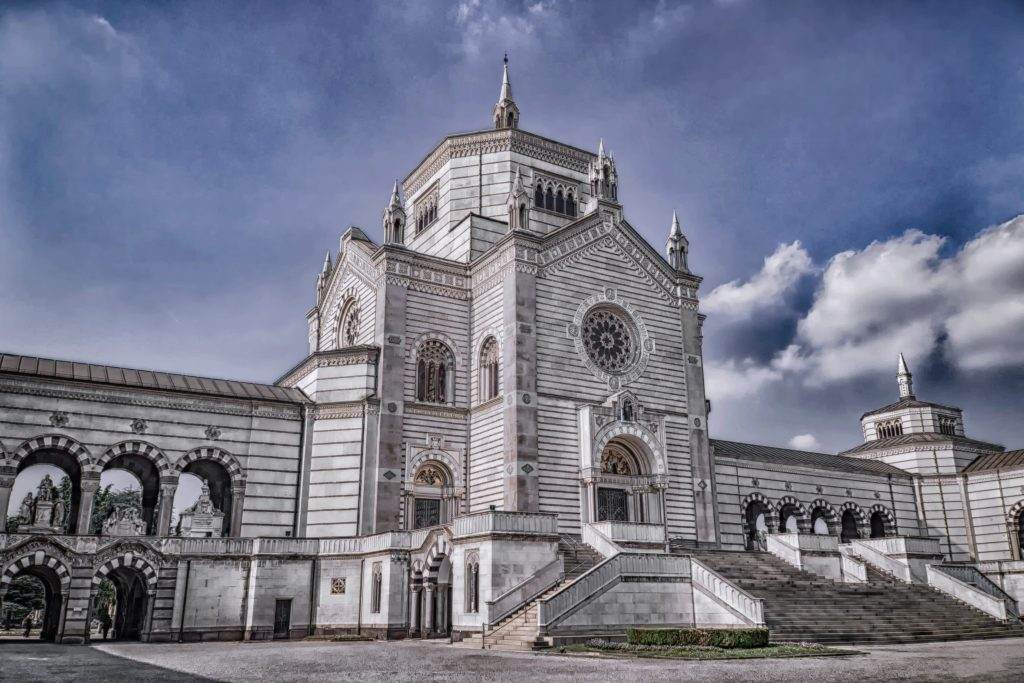 "I guided countless times tourists, enthusiasts and researchers around the open-air museum, yet every time the emotion is renewed, I identify some new small detail and understand how much this place is full of life. It's an eternal place, the pulsating soul of Milan.
During the visit you can admire the memorial chapel called Famedio, the pantheon where are buried the most famous personalities of the city: Alessandro Manzoni, Salvatore Quasimodo, Franca Rame, Francesco Hayez, Enzo Jannacci. You can continue till the Davide Campari Tomb, the aedicule of the industrial family known for alcoholic beverages which is adorned with a transposition of the Last Supper. For this reason it was renamed by the most ironic milanese citizens the Last Aperitivo.
Inside the cemetery we could walk for hours and get lost between Tomb Besenzanica or "Oxen Tomb" or master Toscanini's aedicule. I leave you the pleasure of discovery and take this opportunity, instead, to give you a personal advice. There is a garden that I would define as special. It's special because of its secret. Secret because you can't get there unless someone shows you the way and a common tourist won't walk through it. When you cross the doorway you find yourself in an portico that seems to be a convent's cloister. On the lawn the layed down statues seem to be waiting to be brought back to life; you can also admire two vintage hearses and a black cat named Lucy who made its kingdom out of it."
In this mysterious space often take place events and performances that make the Cemetery even more alive. It seems a contradiction, but it's not, because the Monumental celebrates the start of something, not its end. Exactly as when an artist with his piano delighted the audience moving, singing and dancing among the graves.
Art in Fonderia Battaglia.
"Not far from the Monumental Cemetery, going ahead in Via Stilicone, you will find yourself in front of the Artistic Fonderia Battaglia. It's a building divided into industrial areas aimed to the bronze casting, like a small archaic town where ancient crafts are still put into practice .The foundry was established in 1913 and soon became the reference point of all the great Milanese artists. Here Marino Marini and Arnaldo Pomodoro's art pieces took shape, thanks to the bronze craftsmen's expert hands. Throughout the year it's possible to participate in some educational days and to admire the fusion process: when  bronze reaches 1200 degrees, it's casted into molds to shape art works. The show is really impressive and worth watching."
Events and Art in the Factory.
Located in Via Procaccini, once crossed the entrance you have the impression of being in a factory yard back to the early years of the 20th century, but it's actually a space dedicated to creativity, a conglomeration of art workshops and an exhibition space for important cultural events. For all these reasons, I recommend you to keep an eye on the full activities program.
Cocktail with a view.
It was once the Enel palace, now it's considered the Milanese temple of fashion and lifestyle. It's called Ceresio7 and here it's nice to take an aperitivo at the sunset: the sun sets over the city leaving behind him the night lights turning up and drawing the suggestive skyline. I like to go there and enjoy the moment. Maybe this is why I still have not managed yet to take a picture. It's a moment that flies away and a beautiful memory that will always stay with you.
Tips for you:
To admire the collection of Lia Rumma Gallery, a beautiful exhibition space and one of the most important contemporary art galleries in Italy.
To have a tea at Libreria del Mondo Offeso, in Cesariano 7 street. If you are looking for an intimate atmosphere and you want to spend a little bit of your time reading a few pages of Italian literature.
To go shopping in a vintage shop. Soggetti Milano is a fine boutique of furniture and accessories located in Via Procaccini. Here you can buy some gifts to take with you.
Coordinates.
From Monumental Cemetery to Via Stilicone to visit the Artistic Foundry Battaglia, passing by 4, Procaccini Street to take a sneak peek at Fabbrica del Vapore.
Now you just need to bring with you a map, a camera and a lot of curiosity to discover all the wonders our city has to offer. Have a nice time with your exploration!