23 Sep

Author paths. The surroundings of Sant'Ambrogio

Milan was in the past the only European city that has for centuries had a vineyard in production in the city center. For Expo2015, Piazza Sant'Ambrogio is transformed into " Wine Garden " , a broadcasting center of wine culture. The project designers, Barbara Carbone and Alessandro Costantini, together with the communications manager Alessandra Buscemi, now lead us to the discovery of the surroundings of Sant'Ambrogio , with particular emphasis on the experiences related to the taste. As we explore the narrow streets , the cobblestones and historic buildings of this district with its unique atmosphere, we stop for some culinary stops.

Basilica of St. Ambrogio and Wine Garden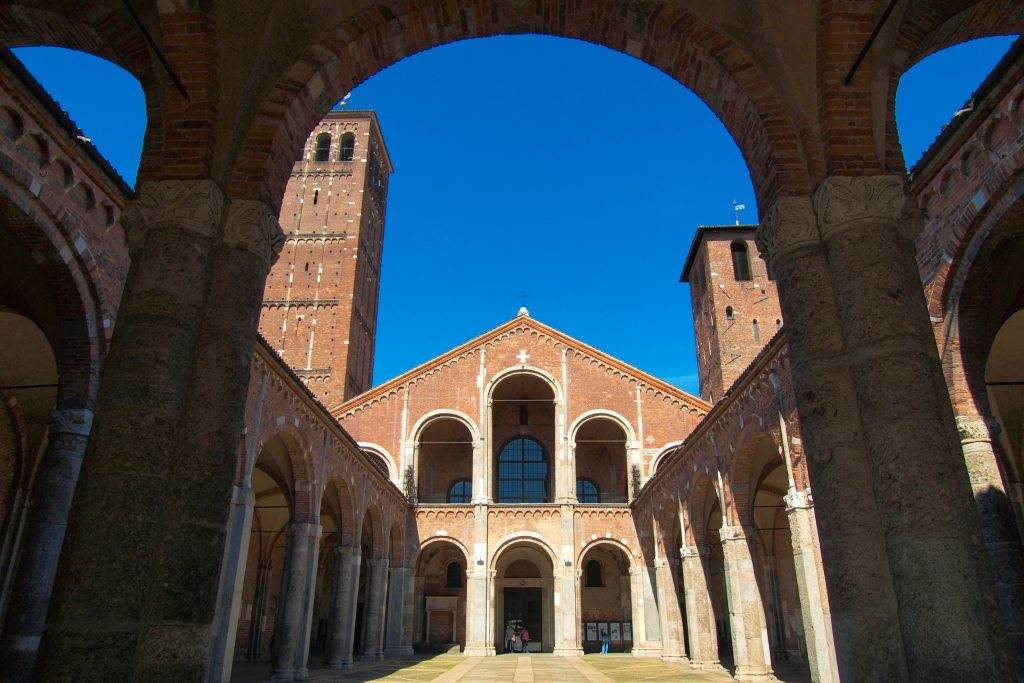 Our special guides make us starting from the Basilica of Sant'Ambrogio and the Oratory of the Passion on the inside, where you will find the garden of vines and vineyards, with different plants and different ages. Here we can see all the developments of the vines during the production cycle and learn about different grapes and bunches of grapes. Obviously we can't give up taste excellent wines in the Wine Garden. (The Wine Garden is open from May 1 to September 20, 2015)
Gallery Rossana Orlandi
We walk along Via San Vittore to discover a fascinating hidden place in a courtyard of an ancient palace " old Milan ": the Galleria Rossana Orlandi. The gallery houses a collection of designs created by international artists, a lovely place for true fans.
National Museum of Science and Technology Leonardo da Vinci
We continue reaching the National Museum of Science and Technology Leonardo da Vinci, where, in addition to the inventions of Leonardo, we can admire the submarine Toti , a fragment of moon and the historic cloisters.
Confectionery Biffi
Those who work or live in this area never gives up a coffee and a pastry from Biffi,  on corso Magenta. It is one of the most famous pastry shops in Milan. Their fame was surely fed by the "panettone", the most famous  milanese Christmas cake , but in any time of the year you can eat a variety of delicious treats. If you  are lovers that looking for a refreshing coffee break , this is the place for you.
The shops of the "5 vie"
Just a few steps from here are the 5 vie. This term the Milanese  indicate a specific area behind Via Santa Marta , which also includes St. Sepulchre , Street Circus and St. Ursula Street . It is much more than just a crossroads: here you can find chic boutiques offering a wide choice of clothing , textiles home, design and fragrances . Just a short walk to savor the history of Milan in every corner, from Roman remains , museums , churches and historic buildings. The soul Milan ancient merges with ever more contemporary, thanks to the appreciation by part of artists and designers who live every day with their studies and atelie. There is also a website dedicated to the neighborhood that you can consult to explore the theme.
Latteria Vegetariana
In the end, we finish the tour in  via Unione , for a vegetarian snack at "latteria Vegetariana" . Exists since 1885, but his soul has been able to grow and evolve. Today it is a small restaurant vegetarian, where you can taste the typical Milanese cuisine , prepared exclusively with seasonal ingredients, and take a step back in time.