15 May

Points of view. Milan and its vintage soul

A guest of ours, with a huge passion for vintage, asked our concierge to suggest her places or events not to be missed to visit during her day off. Bianca was so enthusiastic when she got back to the Hotel that we decided to share with you her experience!

Penelope.

The tour starts in the morning from what is probably one of the most interesting flea markets in the city, at walking distance from Cavour Hotel. Penelope, hidden in the basement of a building, offers mainly objects and furniture from the '50s and '70s. All the products for sale are very carefully selected and divided by gender and age. Our customer bought for his house some old tin boxes for biscuits, including the historic package of krumiri Rossi.

6, Melloni Street. Monday closed, from Tuesday to Saturday 10:00 to 19:30. Sunday 15:00 to 19:30.

Cavalli e Nastri.

The tour continues in the store widely considered the pioneer of vintage in Milan. The care with which the proposals are selected and the refined atmosphere make it a cult place for the fans of the genre. Wandering among laces, was easy for Bianca to find real collectors'items, such as Chanel jewelry, Hermès and Gucci scarves (the one in the photo comes from the '70s) or the '50s Borsalino. She confided us that for a moment she felt like the protagonist of the film Coco Avant Chanel!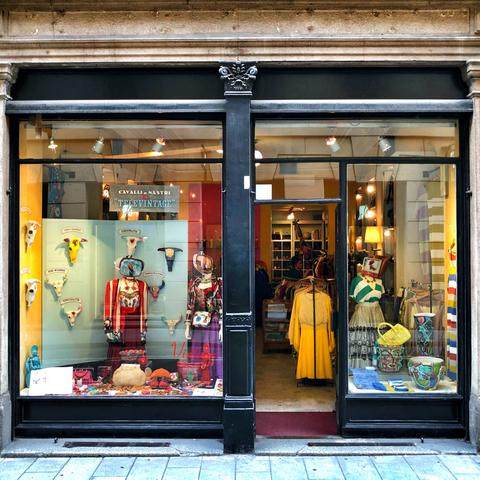 3/12, Gian Giacomo Mora Street. From Monday afternoon to Saturday, 10:30 to 19:30.
Il Bivio.
Same street, another gem. The philosophy of Bivio is "Keep only what you love and bring only what you think could be loved by someone else." The shop also offers the opportunity to sell clothes indeed. Great classics such as Prada, Dior and Jimmy Choo are matched with more niche brands such as Steve Madden and Alexander Wang. Our guest has lingered long on a pair of white sandals by Sergio Rossi, but in the end she came out with two red bags under her arm.
4, Gian Giacomo Mora street. From Tuesday to Sunday, 11:00 to 19:30.
Serendeepity.
After walking through Porta Ticinese, the street of artists, our guest stepped into Serendeepity. This creative workshop, furnished with stuff from the '50s to the '90s, combines modern and retro style. Bianca enjoyed finding exclusive vinyls and trying hi-fi headphones as big as her head. She also found a record player that reminded her of the one with which her grandfather made her listen to his favorite songs!
100, Porta Ticinese. Monday from 15:00 to 20:00, from Tuesday to Sunday, 10:00 to 20:00.
Al'Less.
Al'Less is an out-of-the-ordinary restaurant: the chessboard tiles in large format are there from ages (even the scratches are original), as well as crocheted tablecloths and the chairs that smell wooden. The best tables are those in the back room: to reach them you have to walk between the aromatic plants of a former greenhouse, all for sale. There is also a small bookshop about the use of plants in the kitchen and vintage magazines to browse or buy. Although she was tempted by all the exhibited products, Bianca opted for an homemade Bollito takeaway, for a lunch back in time.
28, Lombardia boulevard. Open for lunch and dinner. Closed Monday nights.
Banister's fleas.
A market of artisans, designers and second-hand dealers dedicated to two wheels and vintage lovers housed in the courtyard of Ca' Longa, an old banister house a short walk from the arc from the Arch of Peace. Vintage objects and clothing, handbags, jewelry, records, books, flowers, accessories, games and gifts for children are exhibited on cargo bikes and old bike transports that will enliven the space recreating an atmosphere of times gone by. For an amarcord moment, there is also a temporary cinema that shows the most beautiful scenes of films set in Milan. Unfortunately Bianca couldn't visit the market, but we recommend it to you readers.
34, Piero Della Francesca street at the Atelier Fridabike. Saturday, May 23 from 12:00 to 21:00.
Ma' Hidden Kitchen Supper Club.
Old radios, typewriters, vintage suitcases, barber chairs, signs, collectibles, armchairs, stools, Americanas, old record players, antique scales. Everything is vintage. Having attended to one of the exclusive dinners, our guesst asked if the Coca-Cola mini fridge was for sale, and she managed to take it home!
The Ma' Hidden Kitchen Supper Club location is secret, you have to send an email to be invited to one of the events organized by the couple of travel and cuisine lovers.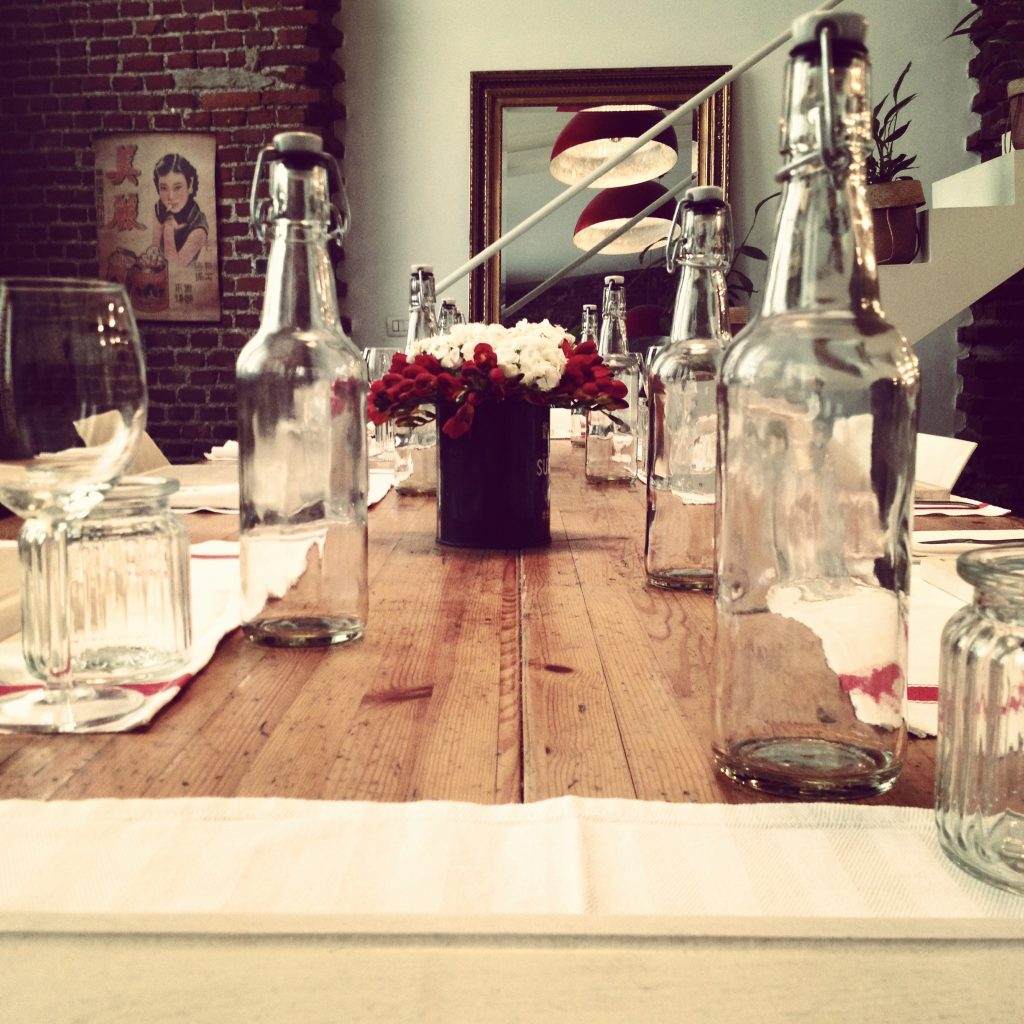 Soon we will reveal you other tours we recommended to our guests!